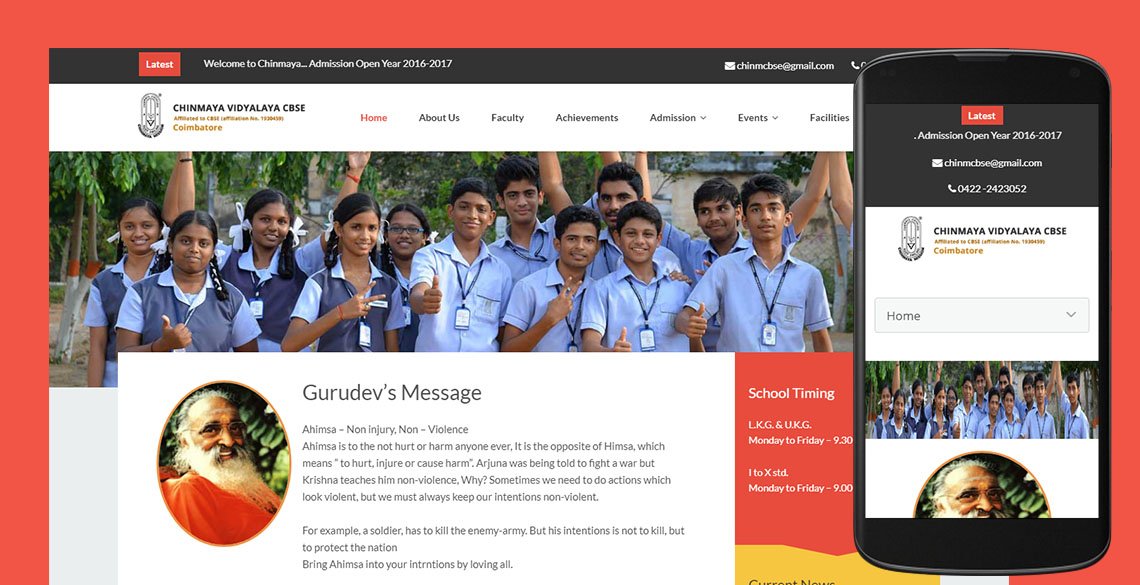 Chinmaya cbse
Education, dynamic

Wordpress Customized, Html5 ,Css3, Jquery,Bootstrap
The Vidyalaya operating under Central Chinmaya Mission Trust, Mumbai, besides offering formal education through the CBSE stream, imparts value based education which extends a strong and effective moral foundation. The methodology based on " Chinmaya Vision Programme" established a foundation for integrated personality development, extends an indepth, knowledge of Indian –culture and instills feelings of patriotism.
The school has grown from a strength of 200 students to 700 students and the teaching faculty form eleven to thirty seven. The school has 22 classrooms, 3 smart classrooms and four laboratories, a spacious playground, a basket ball and throw ball court and an auditorium with a seating capacity of 500.The subject clubs of our school like literary club, mathematics, science and social studies, reading,G.K. and Karuna Clubs keep the students aware of the latest developments in the respective sphere.Students are also inspired to take part in all cultural activities at the intra and inter school levels.Teachers of our Vidyalaya are sent for seminars to keep abreast of the latest changes and trends in the teaching methodology and to quench their thirst for knowledge.
The dizzy height of tomorrow beckons the children of today and it is the duty of parents, teachers and society to trigger optimism in them.