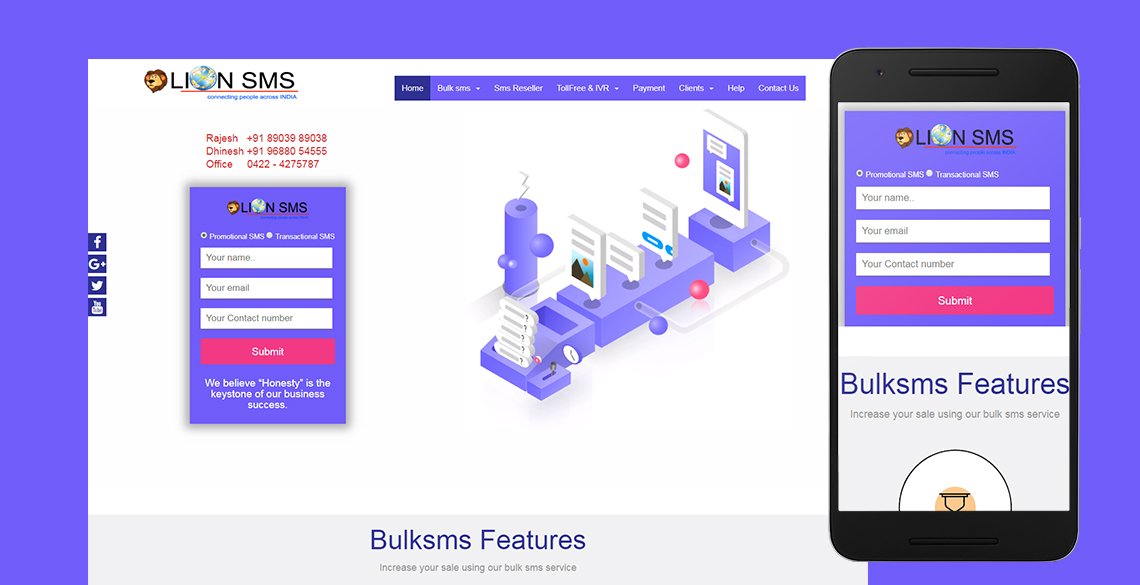 lionSMS
Static, Services

Html5,Css3,Bootstrap
Our company LionSMS is an 5 year old company. We are basically a software development company. Initial stage we where providing bulk sms to clients who purchased billing software and ERP from us. Through word of mouth we started getting more clients, we continued doing this business for one year. Knowing the potential in business we started a new venture LIONSMS, now we have more than 2000 plus clients. We have clients in all segments, business people, individual, industries, education, NGO, service sector, traders, retail shop, temple, IT company and so on..
Our Moto:
1. Customer satisfaction: We make sure all our customers are 100% satisfied with our service and price.
2. Standard: We never compromise on price and quality.
3. Trust: More than 2000 plus client in 5 years. Most of the client is through reference.
What can you expect from our company?
Best support and service Loyal to customers Good service Contact us easily on all working days through phone and email Genuine report
What we do not do:
We do not sell SMS at lowest price like some company does (which is practically not possible, there are many technical aspect behind selling SMS at lowest price)
Our price will be market standard price.
We don't provide service before getting payment, even if it is 1000 sms or 1000000 sms.
We do not give any assurance to client regarding campaigning result.