SEARCH ENGINE OPTIMIZATION
SEO is a process of bring quality web traffic to your website. This is achieved by following SEO guidelines. There are two types of SEO technique, one is ON PAGE OPTIMIZATION and the other one is OFF PAGE OPTIMIZATION. The main goal of SEO is top ranking your website for prominent keyword which in turn generate leads to a great volume.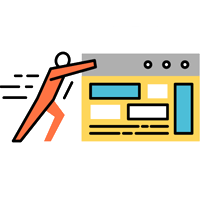 What is SEO?
Search Engine Optimization (SEO) is the process of affecting the visibility of your website in search engine's (Google/Bing/Yahoo) unpaid results—often referred to as "natural" or "organic"results. If you want your website to appear on the first page of a search engine when one searches for keywords of your interest then you need SEO.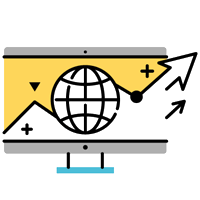 Why you need SEO?
More and more people are using search engines like Google to find the products and services they want to buy. So if your customers are searching for your products and services online, it's important that your website appears as high up the search results as possible.
How SEO work?
Search engine works with an automated software called BOTS. Search engine unlike human they are text driven. They can understand only text. The bot crawl your web page and indentify what kind of business you're into. Few of the activities performed by search engines are crawling, retrieving, calculating relevancy and indexing.
The Search Engine crawler, crawls to your entire web page link. It frequently checks your website for any new page inclusion. Sometimes it may not crawl your website for many days; in that case it's mainly because of not following SEO guidelines.
If your site is not indexed by Search Engine for many days, it's better to check your site with text only browser. Linux yellow pipe browser can be used to check, how your site appears to the bot. You will get a clear idea, why your site is not listed in search engine.
Content is king in SEO. Write unique content. Content should not have grammar mistake, spelling mistakes. At the same time don't write content for Search Engine Bots, write for your customers that is most important.
To know the price feel free to contact us +91 89039 89308 or mail us at seo@budnetdesign.com.
The delivery time frame can increase depending on the competition on the targeted keyword
Choose Your Package
ACTIVITIES
BRONZE
SILVER
GOLD
PLATINUM
Website Attributes
Number of web pages
10 Pages
25 Pages
50 Pages
100 Pages
Top 10 Guaranteed keywords
6
12
18
24
Expected Deliver time
120 days
150days
180 days
210 days
On-Page Optimization Activities
Keyword Research
YES
YES
YES
YES
Web site Analysis
YES
YES
YES
YES
Number of Keywords
YES
YES
YES
YES
Website Structure Optimization
YES
YES
YES
YES
W3C Compliancy
ONLY HOME PAGE
ONLY HOME PAGE
ONLY HOME PAGE
ONLY HOME PAGE
META Tag Optimization
YES
YES
YES
YES
Content Optimization
YES
YES
YES
YES
Image Optimization
YES
YES
YES
YES
Sitemap Implementation
YES
YES
YES
YES
Robot.txt Implementation
X
YES
YES
YES
Google Analytics Setup
X
X
YES
YES
RSS Feed Setup
X
X
YES
YES
Off-Page Optimziation Activities
Search Engine Submission
YES
YES
YES
YES
Local Listing Optimization
YES
YES
YES
YES
DMOZ Submission
YES
YES
YES
YES
Directory Submission
100
120
150
250
Link building
20
30
40
50
SEO Article Creation
3
5
7
9
Article Directories Used for Each Article
20
30
40
50
PR Creation and Distribution
X
1
2
3
Forum / Blog Posting
X
10
20
50
Social Book Marking
X
15
25
50